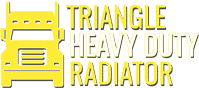 MEET THE OWNERS
We welcome your business at our shop – Gary's son is now overseeing day-to-day operations, but if you'd like to hear more stories from Gary stop in anytime!
Expert Heavy Duty Radiator Technicians
Triangle Heavy Duty Radiator, at 3700 West Irving Park Road, is a full service radiator repair shop and leading parts supplier for radiators, air conditioner components, condensers, fuel tanks and more for the Chicagoland area. Our team of industry veterans can locate the parts you need – whether it's well-known on the market or relatively obscure. From radiator recoring and welding to fuel tank system repairs, you can trust your commercial trucks, agricultural and construction equipment to our service techs.
OVER 50 YEARS IN BUSINESS
Our History
Our facility is the former site of Triangle Auto Repair & Service, which Gary founded here back in 1966 and is now at 4060 North Elston Avenue in Chicago. The original shop was a small, triangle-shaped property here on Irving Park Road. Among the very first customers to bring in a vehicle for service was a gentleman named Joe, who lived in a two-flat right across the road. As a matter of local history, Joe's in-laws built that residence way back when Irving Park Road was nothing more than a dirt road! Joe told a lot of great stories and had a number of artifacts passed down from his in-laws that dated to the Civil War.
Just about a year after the auto shop opened, the blizzard of 1967 shut down the whole city. The only traffic that could manage Irving Park Road were folks on cross country skis! Imagine that! Today, our neighbor is a custom car shop. Before they moved in, Gary's original neighbor was a millwright named John McDonald. Prior to Mr. McDonald, the property was used for a lumber yard going way back to the 1920s.


While celebrating the nation's bicentennial in 1976, Gary purchased a second property at 4060 North Elston – today this is our auto repair facility.
During the blizzard of 1979, we used the Northwest (Kennedy) Expressway from our home on the Northwest Side – on our snowmobiles!
This was the only way we could get around the city – it was completely shut down.
We were able to get to Triangle Auto Repair & Service and help dig out our neighbors from all that snow!
DO YOU HAVE A HEAVY DUTY RADIATOR THAT WE CAN HELP WITH?